The Double Divas Experience – Toronto
Posted by jharris in News, Uncategorized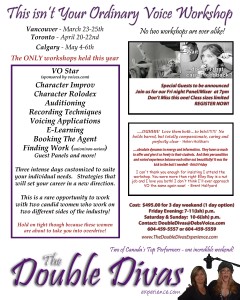 Title: The Double Divas Experience – Toronto
Location: Toronto, On
Description: THE DOUBLE DIVAS EXPERIENCE
They say you can't keep a good man down, and the Double Divas have proven time and time again that this applies to these two women as well! After an amazing series of workshops in 2010, and 2011, the Double Divas are back with the Double Diva Experience in 2012! All new content to keep your skills and knowledge on the cutting edge of the VO world! Building your web presence, studio time vs editing time, creating your own work, booking agents, equipment requirements and care and much, much, more! There will only be three chances to catch these crazy gals so register now to ensure your seat is saved!
Vancouver
March 23 -25th
Toronto
April 20- 23rd
Calgary
May 5-7th
Full workshop $495 plus applicable taxes. Seating limited. contact DoubleDivas@DebsVoice.com to register today!
Start Date: 2012-04-20
Start Time: 07:00 p.m.
End Date: 2012-04-23
End Time: 06:00 p.m.