No Demo Dim Sum
Posted by jharris in News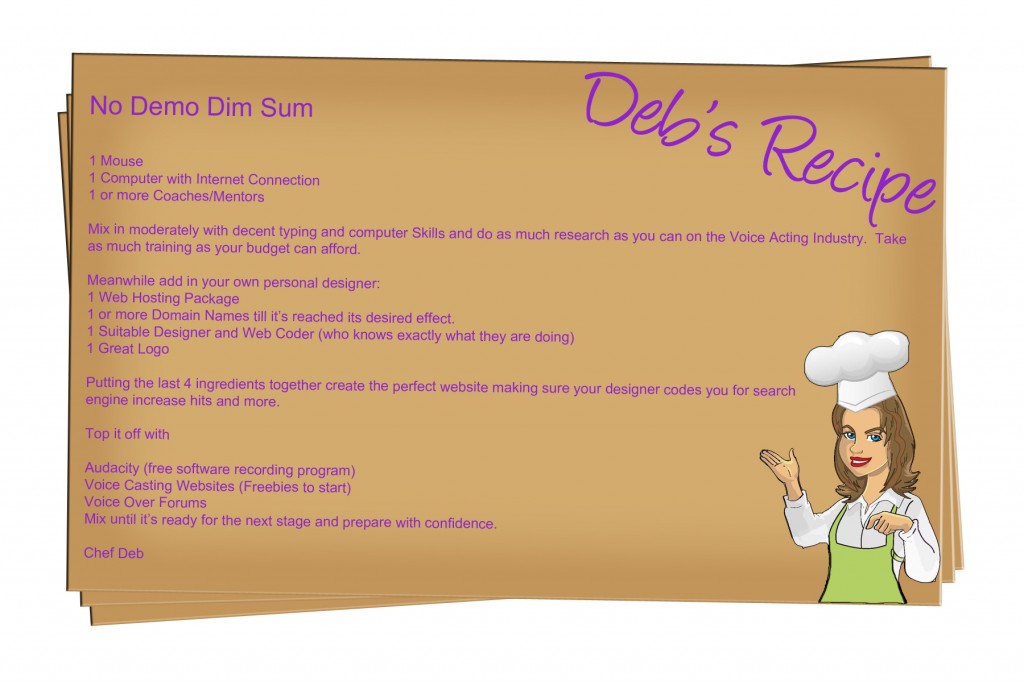 No Demo Dim Sum
You're off to the starting gates in the Voice world.  You know you have the right stuff to make it in this industry but you keep getting told you're not ready to make your demo or you're smart enough to know you're not ready to make a demo.  Besides the obvious training solution (don't bypass this step however), what else can you do?
Thanks to the wonderful advances  in technology there are many things to do while you are training or preparing to launch into the voice employment line.  If you know for a fact you are going to commit 100% to the industry then a website is a great start. You can either get one done for as little as $225 and up or you can build your own.  The point is that its time to start preparing all the info you need to create a website.  You have to build a map for your web designer with pictures, audio, a creative bio or resume, your contact info, any receprical links, past experience, logos, images and creative images for your branding such as logo, etc.
Beyond the prepping for the website there are so many other choices.  Many free online sites allow you to connect with other like-minded people.  There you start in building your support team.  Many talent can't afford training, however the World Wide Web provides sites and forums offering you a ton of free information that will get you to the next levels you are trying to obtaining.
You need to start creating a web presence, so join every informative website you can find and start connecting with industry people, websites, decision makers and more so that you can build a presence on the world wide web.  Ask questions, join free or low cost webinars, join contests and more.  There is much to do out there.  The only one stopping you, is you!
Here are some of my personal recommendations for you to start with:
www.facebook.com/DebsVoiceRecipe
This is a very easy recipe but it takes time.  If your demo isn't ready – or you aren't ready to create the demo, this recipe will hold you over.
The great thing about No Demo Dim Sum is it's always ready for the taking, as long as you order it.  This recipe requires your dedication.  I recommend at least 1 – 2 hours a day spent creating your No Demo Dim Sum.  There are many other flavors you can add to this recipe, but this one should be a great start.  The art to this recipe is to try it it all.  Stay involved on the world wide web through your own personal web presence.  The more sites your join and take part in, the more tasty this recipe becomes.
Trying No Demo Dim Sum may seem overwhelming, but I'm sure you'll find some really nice tasty morsels that will make this all worth your time and until you're ready for the real Demo Delight, this one will hold you over.
No excuses!!!  Make the time.  You will find success if you are driven enough to find it!
Until next time, all my best,
Deb
My Voice Recipe, Done Your Way!