Thank you!
Posted by jharris in News
Well, I always love it when something I write up can ellicit discussion
among the VO community and my article Thursday on investing in yourself
did just that.  My inbox was buzzing with kind comments, letters of thank you
for encouragement, and questions about continuing education.  As you
know, I am always here for any of you who think you might benefit from my
experience in this industry which is rapidly approaching the 20 year
mark.
For all who wrote me and inquired about continuing education, here are
some upcoming workshops that come highly recommended by yours truly:
The Double Divas Experience
www.TheDoubleDivasExperience.com
Vancouver – March 23-25th
Toronto – April 20-23rd
Calgary – May5-7th
Fee: $495 plus Applicable Taxes for 3 Day Workshop
We have an exciting guest who will be joining us for our Vancouver
workshop – Andrew McIlroy. He is one of the top
acting instructors in Vancouver and hard to get in to see. I've
always said that film training is a must for the Voice actor so here
is one of the best – at a price you can't refuse. We will only be
having ONE workshop in Vancouver this year, so don't miss this one!
Not to mention the fact that the winner of the VOICE STAR competition will win a PREMIUM MEMBERSHIP To Voices.com – how can you lose?
Finding You Voice Workshop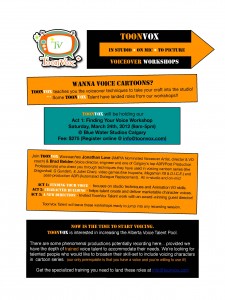 Calgary – March 24th, 2012
Fee: $275.00
ACT 1: FINDING YOUR VOICE – focuses on studio techniques and Animation VO skills.
ACT 2: CHARACTER BUILDING – helps talent create and deliver marketable character voices.
ACT 3: A NEW DIRECTION – Invited ToonVox Talent work with an award-winning guest director!
Join TOONVOX Voxcoaches Jonathan Love (AMPIA Nominated Voiceover Artist, director & VO
coach) & Brad Belden (Voice director, engineer and one of Calgary's top ADR/Post Production
Professionals) who direct you through techniques they have used in voicing cartoon series (like
Dragonball, G Gundam, & Jubei Chan), video games (like Inuyasha, Megaman X8 & D.I.C.E.) and
post-production ADR (Automated Dialogue Replacement).  All in-studio and on-mic!
Tom Logan Commercial and TV Workshops
Edmonton April 27, 28 and 29, 2012
Beginners On Camera Commercial and TV Workshop, Friday, April 27, 6 PM – 10 PM.and Saturday, April 28 9 AM – 10 PM
Advanced On Camera Film and Television Workshop, Sunday, April 29, from 9 AM – 10 PM
Fee:  Each Class usually costs $275, but you can get the whole weekend for $300.00. That's only $150.00/class
Los Angeles Director Tom Logan will be in Edmonton to teach his life changing acting for film and TV seminars!
Tom Logan Directs, Writes and Teaches all across North America.
His classes are informative, interactive, and intriguing — as he shares his overwhelming wealth and years experience, as well as the expectations of the industry. Tom's knowledge and sense of humour bring understanding and confidence to the actors, as they blossom in front of the camera.
As a result of over 40 years in the business, Tom's experience on both sides of the camera make him an exemplary instructor. And as a result, his courses give students a real edge — with real answers and practical skills to land the job. That's why so many of Tom students get the work.
To Register: Call Mary-Lou Drachenberg at 780 975-7022, or mail your deposit of $75.00, to 38 Balmoral Drive, St. Albert, AB. T8N 0B8. Remember to include your return address info, and phone number so that she can send you a confirmation letter.
Elley-Ray Hennessey's Open Mic Night with Casting Director Joanne Boreham
www.ElleyRay.com or www.broadviewstudios.com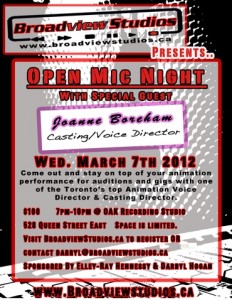 Toronto – March 7, 2012
Fee: $100
Wonderful open mic opportunity to stay on top of your animation performance for auditions and jobs  and get feedback from one of Toronto's top Animation Directors and Casting Directors, Joanne Boreham