Taking Direction Dumplings
Posted by jharris in News, Upcoming Workshops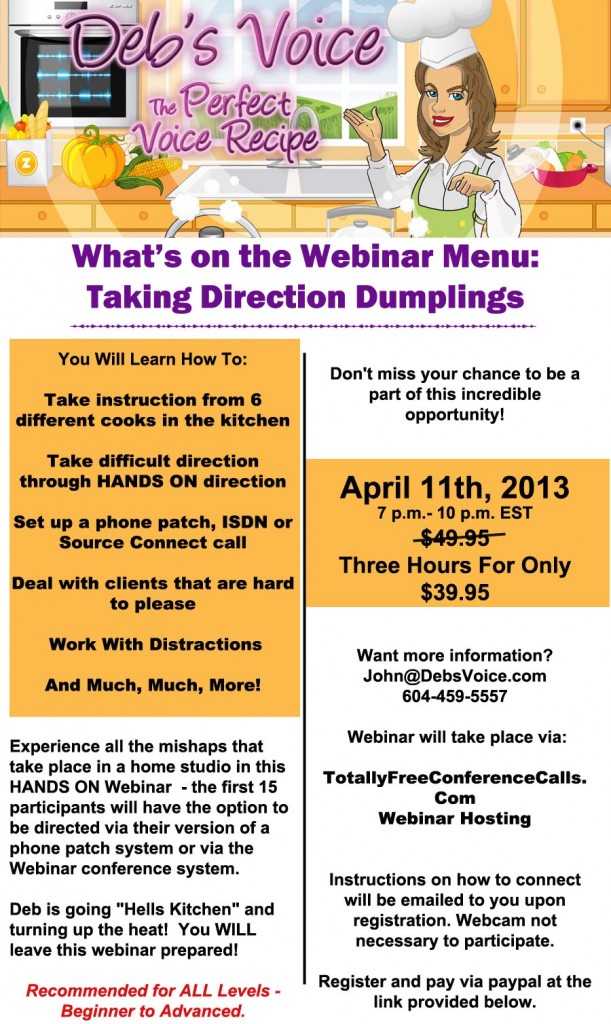 WANT TO BE A CHEF DEB FREQUENT DINER?
Continuing Education should never be out of reach, so Deb is pleased to announced the Frequent Diner Club, an affordable way to get the training you need and want.
The Full Meal Deal: book the rest of the webinars in advance for the remainder of the year now for $250 – that's 10 Webinars for only $25 each saving you $149.50 vs the Pay As You Go Option
The Lighter Fare:

choose six webinars of your choice at $175 –  That's  six webinars  for only $29  each saving you $64.70 vs the Pay As You Go option.
Or you can stay on the Pay As You Go option for future webinars at 39.95 each.
Remember that each webinar is two to three hours in length and Deb works HANDS ON with the attendees during every webinar.  Signed up for a webinar and can't make it?  Don't worry, you will get access to an audio or video recording after the event has taken place.  Here's what you can expect on the menu for the remainder of the year:
April – Mastering the World of Pay 2 Play
How pay 2 play can work for you – no matter you level

Mastering your profile

Audition specs

Audition Techniques

When NOT to audition

which sites to avoid/join

Reading the clients mind

and so much more
Allow VO chef Deb to take you through a culinary of options in the world of Pay 2 Play.  Then work with her hands on as she takes each of you through the Pay 2 Play audition process.
May- Tweaking Your Instrument
Younger or older

Raspy or Smooth

High or low

Discover how to create different characters and styles by understanding your vocal instrument

Explore different techniques that will change your read and your booking ratio!

Placement

What you hear vs what THEY hear and more!
It's time to really take your vocal instrument for a test drive.  Using a script of your choice, work with VO Chef Deb hands on – as she takes you on an elevator ride of characters and sounds that could change your delivery and take you to another level.  Great for ALL genres – not just character work!
June- Voice Assessment – Are You Ready To Record A Demo
Can't make any money without one, but are you really ready?
Allow VO Chef Deb to direct your current live read!
Find out if you are ready

Which demo to pursue

How to obtain content for your demo

What to do next!
This is an incredible opportunity to be told realistically where you are in your career and offer you constructive advice as to where to take it next.
July- Dissecting Your Current Demo
Got a demo?  It's time to let VO Chef Deb do some Dissecting!!
Warning:  She is one tough critic!
What makes a good demo

Were you ready for your demo

Find out if your demo is agent quality

What works or doesn't work on your demo

What to do next with your demo

Possible agent referrals
It's time to take your current demo for a test drive.  See if your demo passes the test, or if it's time to go back to the drawing board?  Perhaps you need to know which demo to pursue next?  Small upgrade but not sure what to add?  VO Chef Deb will help you dissect your demo to ensure you have a demo that will get you work! It's important to truly understand what a good demo or what a bad demo sounds like.  Will your demo make the Christmas Blooper Party or will it land you in the agents door?  Find out how!!
August- Finding Your Niche Market – Promo, Audiobook, Narration, Animation, Commercial? What is right for me
Read copy as VO Chef Deb helps you find your niche market:

Where does your voice style fit?

Understand your voice style as the rest of the world hears it

How to find work in each genre

Average rates to expect

What you need to pursue
September- Audiobook Stew – The world of audio books, know what it is before you get started
Choose your genre

Read a few passages

Let the critiquing begin!

Understanding the world of audiobooks

Rates

Finding Work

Production needs

Tips and tricks that will SAVE YOU A TON OF TIME AND STRESS
VO Chef Deb knows first hand the positive and negative of this industry and isn't afraid to share it all!  Not only will you learn as you hear each participant read in different genre's, Deb will give you the in's and out's that will set you in all the right directions to either pursue this industry or advance your skills, or to RUN and turn the other direction.  NOT EVERYONE IS CUT OUT FOR AUDIOBOOKS.  Discover where you fit!
October-Creating OUT OF THE BOX Characters
Digging deeper into your Rolodex of characters

Taking your character work even further

Creating ODD characters

Quirky Characters

Great for Commercials, Video Games, Animations and Audiobooks

Stretching the limits

(This one may get WEIRD)
Not meant for the shy!!! OR it might be just what you need to get yourself out of your own way and create characters that decision makers will remember.  Taking the ordinary and turning it into extraordinary.  Work on your favourite halloween character as VO Chef Deb takes your character to an entirely different level.  Discover how to do this with all your characters.
November- Men Vs Women
The Gender war is on – It's a script competition you don't want to miss!
Where do you fit in the equation

where is the industry heading

What to do if you're a man

What to do if you're a woman

ONE SCRIPT – ONLY ONE WINNER

Will it be a MAN or a Woman

Winner get's one hour free session with VO Chef Deb (Value $125)
December- Building Your Business Plan and Client Base for 2014 – How do I find new clients, how do I keep them coming back and make goals for the New Year
Creating a realistic plan that suits your personality

Budgeting

Scheduling

Homework assignments to generate work

Branding Ideas that will get you heard

Cover Letters

Pitching Clients

Understanding clients needs
This one may change they way you do business.  Just because you have a business degree, doesn't mean you understand human nature.  There are many ways to create a business and lets face it, we are a bunch of chipmunks, guys next door, witches, storytelllers and more – there is nothing PROFESSIONAL about what we do – so find out the RIGHT way to sell yourself.  Create a REALISTIC plan that suits your business drive and your REAL personality.  After all – you are selling – YOU!
Well there you have it!  It's time to order up!